Orbital shaker
2018-05-03 | Source:Being | Hits:
Application
Orbital shaker controls the orbital movements frequency to make material dissolution, liquid mixing, microbial culture and plant tissue culture circulate in experimental container. It is widely used in plants incubate, fermentation,hybridization, bacterial culture, biochemical reactions, enzyme and tissue research or small production of biological samples.
Feature
● Adopt single-axis drive and balancing technology, smooth running, low consumption and low noise
● Micro-computer control frequency and time, built in power off protection,it can resume work after normal power supply.
● Large LCD screen can display frequency and time, menu operate interface,easily to understand.
● 24V DC control guaranty safety use.
● Brushless DC motor, large start torque, wide speed adjustment, free maintenance.
● Adjustable motor start-up torque to avoid over load samples that can not start the instrument.
● Vibration imbalance detection. When shaker vibrates fiercely, the instrument stops automatically and smoothly.
● Many kinds of clamps and racks for selection, and the change of these parts are very easily, improve work efficient.
● Programmable controller can simplified the experiment process, realize automatically control and running.
● RS-232 and USB can be selected one of them, connect with computer,instruments can be monitored the time, alarm and rotation speed.
Safety
●Protection on key components: Key components have over current, over temp., over load etc safety protection, it can prevent instruments accidents without precautions.
● Breakdown message provided: When the instrument breakdown, the breakdown messages show on the screen to help operator easily check.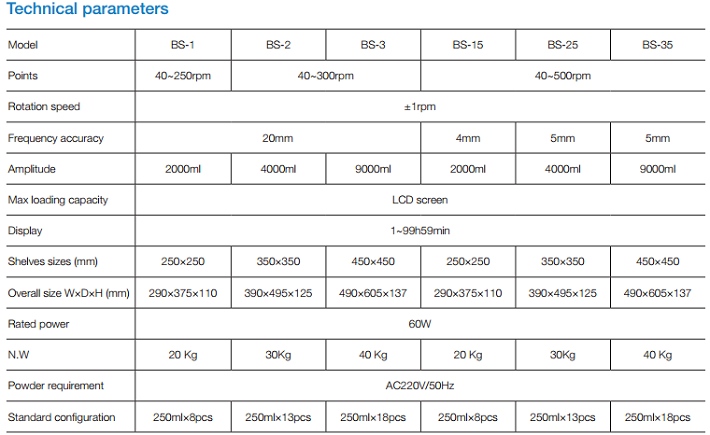 Back >>