Shaker
2019-12-04 | Source:Being | Hits:
Application
Being shaker incubator adopts new outlook, large LCD screen, latest technology of motor driven system, Large torque, stable operation, low noise, fast heat dissipation and long service life. It is widely used in cell culture, fermentation, hybridization, biochemistry and enzyme research etc that need shaker function in laboratory experiment or pilot experiment.
Product features
Colorful intelligent touch screen control
● Adopt 4.3 inches touch screen , intelligent touch screen control, parameters real time display, operation easily;
● Temp., rotation speed and time etc parameters fast setting
Humanization design
● Silent working
● Colorful touch screen display, multi data display at one screen, easily to observe and operate.
● Platform is stainless steel, easy to detach and clean.
● Various kinds of clamps and racks for selection, easily change racks and clamps improve work efficient.
Quality guaranty
● User's set parameters can be stored automatically when power off suddenly, and it resume last program settings when power on.
● PID microcomputer control temp. and shake frequency with timer, it starts shake gently to prevent liquid coming out from the vessels and stop the machine working.
● With rotation speed monitoring circuit. When the instrument detects rotation speed is too fast or too slow, it can stop shaking to ensure no accident occur.
Uninterrupted performance guaranty
● Brushless DC motor, large start torque, wide speed adjustment, free maintenance.
Three-eccentric axis balance drive
●Three-eccentric axis balance drive ensures all samples in the shaker platform movements at the same rotation frequency. Durable structure guarantees the shaker incubator can work properly no matter full load or high speed working.
Multi-segment programmable control
● Multi-segment temp., speed, time program at the same time. It has normal mode or programmable mode for running. Preset parameter and work data can be shown at the same time. It simplified complicated culture requirements and realize auto control and run.
Convenient data process
● Equip with USB as options, record temp. parameter changes(Option)
● Equip with RS232 data interface, through software to remote control machine performance (option)
● Above two options can be selected only one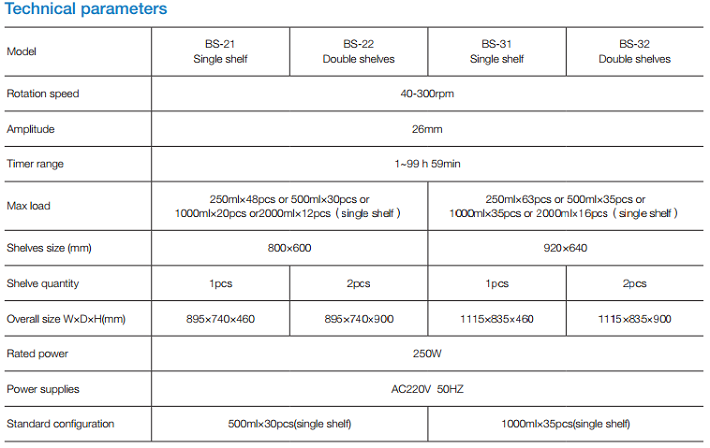 Back >>