Water Bath
2018-05-03 | Source:Being | Hits:
Suitable for direct heating and auxiliary heating of biological, chemical, physical, plant, chemical and other experimental samples. Routine laboratory temperature control, Escherichia coli detection, sample thawing, bacterial detection, incubation microbial experiments, cell culture, food testing pretreatment, etc.
Features
● PID temperature controller, large LCD display screen and interface provides for userfriendly operation.
●Easy to set Adjustable Timer. (1 minute to 5,999 minutes)
● Built-in circulating water pump to ensure uniform upper and lower temperature of bath lotion. (only for BW-22P)
●Maintenance-free operation with easy to clean surface.
● Both heater and bath chamber are made of corrosion-resistant stainless steel.
● No angle in bath chamber, easy to clean.
● The standard stainless-steel bottom plate, helps prevents direct contact by accessories and tubes to heating element and sensors.
●Drain valve makes emptying of bath water fast and easy for cleaning and moving.
Safety
● Preset On/Off function.
●Built-in power interruption protection function, automatic run after power interruption.
● Independent Over-temperature protection meets DIN 12880 International standard requirements.
● Temperature deviation alarm.
● Over current protection alarm.
Option
●Available RS-485 or USB ports for data collection.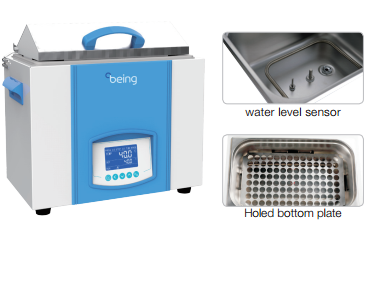 Back >>